Veteran Seed Supplier Sean Rittinger Now Has New Tools to Enhance ROI On Every Acre
Columbus, Ohio, November 16, 2021—Meristem Crop Performance Group, LLC (meristemag.com) and Sean Rittinger of Stoutsville Seed Shed of Stoutsville, Ohio announced a new strategic supply agreement to serve farmers in South Central Ohio.

Under the new relationship, Sean Rittinger and his business, Stoutsville Seed Shed, will carry the Meristem Crop Performance product line and become Meristem's ally in helping Ohio farmers make the most of every dollar they spend on crop inputs.

"Sean Rittinger is known in South Central Ohio for providing solid agronomic advice that helps his growers make the most of every seed he offers," says Mitch Eviston, Meristem Founder and CEO, in announcing the agreement. "We're excited to be able to come alongside to help him serve his farmer-customers and also gain from his field experience and input as we add new products."

Rittinger, who also farms 1,000 acres of his own, says he's building Stoutsville Seed Shed to meet his needs and those of his farmer neighbors. He views adding the Meristem portfolio as an opportunity to help improve return on investment (ROI) for every farmer he serves.

"Our grower-customers will never see any of our offerings unless it's something that's been successful on our own acres at Rittinger Farms," he says. "Meristem Crop Performance is specifically geared to helping growers gain a better ROI and they are cutting out waste in the distribution system to save farmers money. Our alliance with them will enable us to help farmers make the most of every pass they take through the field – with high quality inputs at prices that help farmers make more money and keep more of what they earn."

Stoutsville Seed Shed will now offer Meristem's product portfolio, including seed treatments under the brand RACEREADY™ and HOPPER THROTTLE, REVLINE™ plant growth regulators, TRUTRACK™ drift control, AQUADRAFT™ water conditioners and surfactants, UPSHIFT starter fertilizers and HOMESTRETCH™nitrogen stabilizers, micronutrients, and foliar nutritionals. Of special interest is a line of biologicals Meristem is bringing to market, including EXCAVATOR, a new biological designed to break down tough crop residue.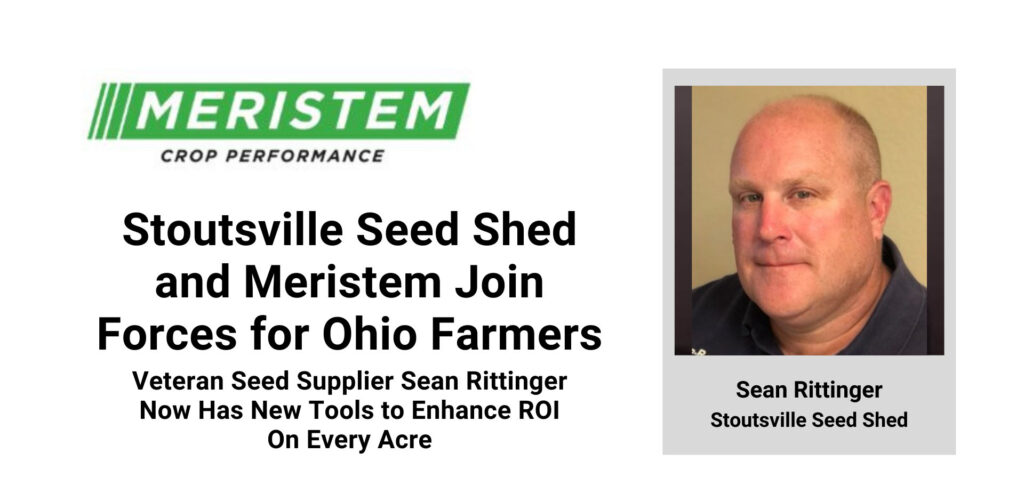 "Our focus is to have farmers see the seed meet its potential," says Rittinger. "We've got world-class germplasm and genetics – we want to help farmers make the most of every seed they put in the ground. Meristem has high-quality products that can help us do exactly that."

Rittinger says his focus on helping his clients make the most of every acre they have, given the specific characteristics of their land and their goals, remains his key objective every day, and Meristem can be part of that solution. He and his wife Rachel have three children: Christian, Grant and Sylvie and live near Stoutsville and he says he knows the importance of family.

"I grew up on a grain farm," he explains, "I'm the fourth generation of that farm and I'm now raising the fifth generation. It's my hope to pass it on. I know that many of the farmers I work with have similar goals and I want to do everything I can to help them."

"We've set up Meristem to cut waste from the distribution channel while providing high-quality crop input additives to help American farmers reduce costs and increase yield, so they are more competitive in a global market," adds Eviston. "Now, with the help of Sean Rittinger, we'll be able to connect with more of the farmers who can benefit."
###
About Meristem Crop Performance Group, LLC
Meristem Crop Performance Group, LLC (meristemag.com) is one of the fastest-growing direct-to-farm crop input companies in America. Meristem sources, formulates, and delivers high-quality crop inputs to farmers at the least cost possible, at savings up to 30 percent. By helping farmers and local independent agribusinesses make the most of their infrastructure and intellectual property investments, the company improves productivity and removes waste in the established distribution channel. Meristem is led by a world-class team of ag professionals passionate about creating the most efficient channel to move innovative practices and novel technologies to market for the benefit of the American Farmer.
Back