-Farm Bureau Economists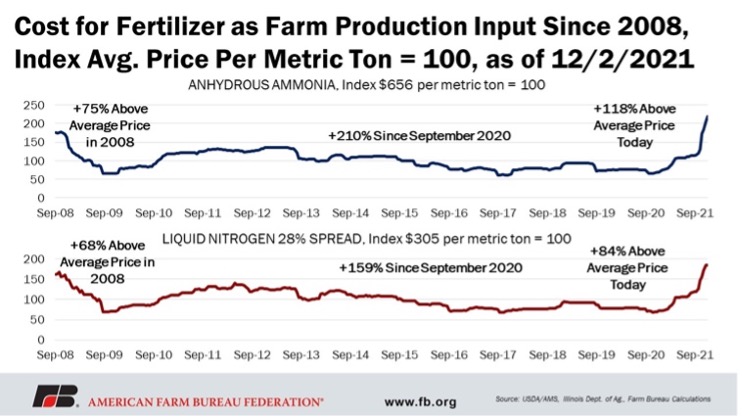 While different groups squabble over the root cause – tariffs, weather, demand, lack of competition – the net effect is prices for NPK that are double or triple what they were just a year ago, according to economists at the American Farm Bureau Federation (AFBF).
"Unfortunately, the fertilizer sticker price farmers in some areas are reporting is up more than 300% and delivery times are anyone's best guess," share AFBF economists Shelby Myers and Veronica Nigh, in a recent report. "Compared to September 2020 prices," they continued, "ammonia has increased over 210%, liquid nitrogen has increased over 159%, urea is up 155%, and MAP has increased 125%, while DAP is up over 100% and potash has risen above 134%."
That kind of sticker shock has many high-yield producers and their agronomists looking for alternatives.
"If I bought the same tonnage I bought last year my bill would be nearly $500,000 higher," privately shared a grower from Indiana at a recent meeting. "That's not going to work for me."
Mitch Eviston, founder and CEO of Meristem Crop Performance told a recent farm audience that those high plant food prices make it the perfect time to try biologicals that free up nutrients.
"Just begin to open some acres for trying some of these new approaches – these new products – that will help you make the most of the nutrients you do buy. This is the perfect year to try a new approach." Eviston later shared a quick list:
It's the perfect time to breakdown those stalks with a biological and release up to 40% more nutrients in time for early-season growth. "We have a product called EXCAVATOR™ that is breaking residue down quickly and releasing up to 40 pounds of P and K."
It's the perfect time to move away from blanket all-field fertilizer applications and move to more strip-till and in-furrow starters. "Field research with REVLINE HOPPER THROTTLE™ is demonstrating a 6 to 8 bushel per acre yield bump."
And it's the perfect time to consider new biologicals that make the most of every pound you put down – and at a fraction of the cost. "Our NUTRIFUEL™ contains eight different microbes that boosts nutrient availability."
"Opening up a new route for innovation that helps growers get a better ROI is key to our mission," he says. "We want to help American farmers better compete in a global grain market."
###
Back