Meristem Needs Great Interns.
Meristem is in the hunt for five great interns to help build business in three different ways. College students that win these spots will earn $2,500 a month from May 15 to August 1 and gain experience worth several times the money.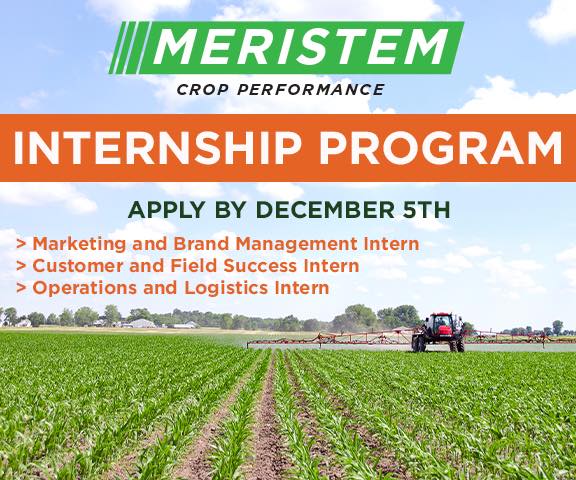 "We're looking for sincere contributors to the growth of this fast-growing business," says Rob McClelland, president and chief marketing officer (CMO). "We are an extraordinary start-up, and these internships will be an extraordinary opportunity for young men and women who are intent on achievement and personal growth." The ideal Meristem intern will have a sincere interest in serving and supporting Meristem farmer-customers, dealers, employees, and brand, says McClelland. In return, those interns will gain valuable hands-on, in-field experience. Interns are sought in three areas:

Customer and Field Success Intern
Duties:
• Interacting directly with dealers and building relationships
• Aid Meristem employees in the delivery of products
• Speaking to the value of Meristem products
• Learning about the Meristem in every pass process and helping sell products

Marketing and Brand Management Intern
Duties:
• Supporting the Meristem marketing team
• Creating and editing of Meristem collateral development
• Providing strategic brand marketing support
• Working knowledge of Meristem product portfolio and corresponding

Operations and Logistics Intern
Duties:
• Order and Shipping Management
• Inventory Management
• Providing customer service
• Data Entry
• Event planning

Each intern will also be involved in the Meristem August Dealer Meeting in Wisconsin, during which they will meet with the Meristem Board of Advisors and other leaders in the agriculture industry.

"This is not a lazy, "busy-work" kind of internship," says McClelland. "For the right person, this could be a life-changing experience," says McClelland.
For more information on applying, visit the careers page at www.MeristemAg.com
Back